Livemixtapes is a free online music streaming and downloading service. It packs a wide range of different genres of music, in a form of Mixtapes. Depending on your preference, you can follow, create, listen or even download the songs or the entire Mixtape for free. You can also download Livemixtapes mobile app and enjoy your mixtapes on mobile phone.
Now, no more boring parties with lame DJs. And with the Livemixtapes mobile app, you will never miss out on the fun of having great people around, amazing food and some of your favorite music numbers. And the best part is that everything comes for free. So, get aboard for free and enjoy listening to your favorite artists anywhere, anytime for free.
If you are a music enthusiast yourself and love making Mixtapes, then Livemixtapes.com allows its users to sign up for a free account and upload their own Mixtapes. Having a free account also brings along other great facilities:
Creating and updating your own personal playlist.
Maintaining a favorites list to get quick access to all of your favorite artists and tracks.
Let's see how to use this awesome free service on your PC/Laptop.
Head over to Livemixtapes.com.
They have fairly easy to use interface as you will see that straight away.
Featured Mixtapes, featured videos are also on the homepage.
How To Download Music From Livemixtapes.com
To download music from livemixtapes, it's really easy. It still is not that straight forward though.
After you get to the website, find the song that you want to download. Either search for it from the search bar or from the homepage straight away.
Click on the "download link" and you will be redirected to the download page.
Now, you have two different options to download the mp3. Either you can share the mp3 link on twitter or Facebook, alternatively you can watch a video and wait for 15 seconds and you will be given a code to reveal the download link.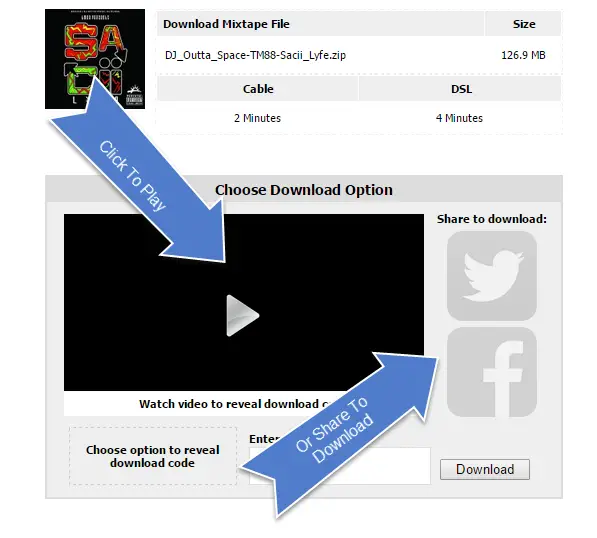 Livemixtapes mobile app download and use
They also have their official livemixtapes mobile app (LMT RADIO) available for free download. You can download it for free from the Google app store, apple app store or your respective app store for free.
For Android Users
Remember, if you search for "livemixtapes" chances are you will never find the app in the store. So you will need to search for "livemixtapes mobile" to get the app.
Search for it or follow this link: Here
Install the app on your phone and if it asks for permissions, allow it and if it requires you to enable installations from untrusted sources, do it.
Open the app from your apps lists.
I have to admit that I am not a great fan of LMT RADIO app for android. I mean it plays free music for sure, but in terms of usability, you cannot do too much with the app. You lack behind in search capabilities, after you login you are able to see your playlists,but still you are deprived of the option to download the mp3 and move around different artists and playlists of your choice that easily.
So, if you are an Android user, I suggest you to use their mobile version. You can find that here: mobile.livemixtapes.com
This provides all the functionalities and features that we get on it's full version desktop website.
For iPhone/iPad/iOS Users
To get yourself a copy of the LMT radio app, all you need to do is, hop in into your app store and download it straight away from there.
Link for the app for iOS user. Here
So, that's how you can download livemixtapes mobile app or use livemixtapes on mobile phone. Hope this article also helped you to download your favorite mixtapes.