Managing a team and keeping the records of every activity of a team is a hard job. It gets even more complicated when you are working together remotely. If you work with one of the latest tech companies or any organization, chances are you've heard of Slack, a workplace networking app.
Slack, like Microsoft Teams, is a common chat app for businesses. The app includes IRC-like features like topic-based chat rooms, group communities, and instant messaging. Slack is a famous office messaging app worth more than $20 billion to the company that owns it.
If you don't know much about Slack, we will learn about Slack and its importance for proper team management. We will also learn how to install and how to use Slack within an organization to manage the team remotely.
What Is Slack?
Slack is a chat network for channels. They're intended to make employee communication more seamless and take over many of the functions that email used to perform.
This software was first designed for small teams to interact. Slowly, when the number of users increases, the company realizes that they need to add some more features for the big companies.
Even after adding features in a big team, Slack still allows people to collaborate more efficiently, integrate all of their tech resources and services, and find the knowledge they need to perform their best work. All of this while itself being stable and enterprise-grade.
Slack is a completely free program. Sure, specific enhancements and features include a premium update, but the free version is more than enough to keep the remote team up and running and running more seamlessly than ever before.
Features of Slack
Slack has several comprehensive features that make regular communication more effective and help team members remain united and oriented on their goals, whether they are in the same workplace or around the globe.
Following given are some of the best features of Slack that will help you to organize your team.
User-friendly dashboard- Slack provides you a dashboard that is very much easy to use, even for the beginner user. In Slack, you can create multiple channels for different departments. These channels are the key elements of Slack. They are, in essence, a series of discussions that revolve around a certain subject.
Document management and Synchronizing- They've partnered with several common applications and software to help you get all of your work completed in one area. Since you can view and address files directly in your networks, syncing with file storage mainstays like Google Drive and Dropbox Paper lets busy teams cut many back-and-forths.
Setting Reminders- Slackbot is a fantastic feature of Slack, especially for reminders. To inform yourself or someone else of action, meeting, deadline, post, code, or whatever, use the /remind command. It's a standard function that's also quick to use.
Task Management- With Slack, it is effortless to manage all the tasks. Slack, for example, will interact with Wunderlist and Todoist, enabling you to apply tasks to the worklist directly from a Slack channel. Alternatively, it would be best if you used Slack's To-Do bot to keep track of all your activities. Without having an integration, you can also build your Slack to-do list. When you send a message to a star, it becomes easier to locate it later.
How To Download & Install Slack In Windows 10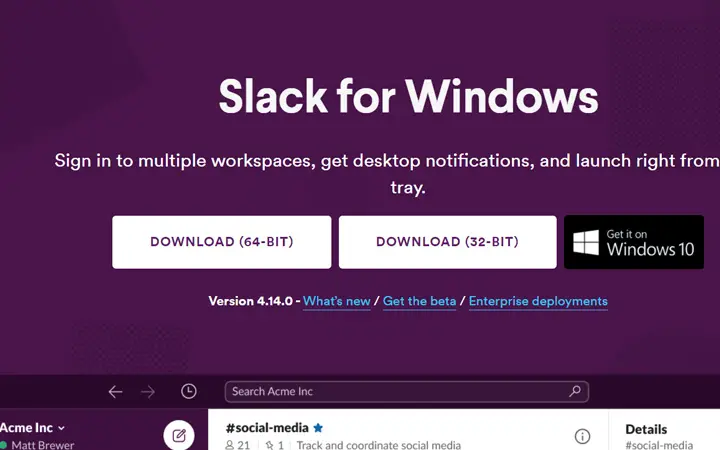 Getting started with Slack is very easy. There are two different ways from which you can use Slack workspace. Either you can download a desktop app or use the online Slack.
Following are the steps to download and install Slack in Windows 10
Open your Google Chrome or Microsoft store and type 'slack.com/download' and press enter in the search box.
Then a Slack download dashboard will appear. There selects the button that matches with your windows version, i.e., 64-bit or 32-bit.
After selecting, the download will automatically start.
Wait few seconds for the download to complete, and then after finishing the download, open the setup file.
Slack will automatically launch. There you have to sign in with your email address to enter the workspace.
How To Use Slack?
If you want to join the Slack workspace, then for that first, the team leader needs to add you to the Slack channel. After that, by simply entering your email address on the Slack website, you can connect with all your team members.
It is straightforward to join a team, but if you are looking forward to creating a channel for your team, you need to consider a few things. After a quick sign-up, you'll be directed to the team creation tab. Enter your email address, and then you will receive a verification code in your mail. You need to verify your email, and then only you can invite other members to the team.
To view your Team Menu in Slack, press the name of your team. Pick the Invite People choice from the drop-down menu. You can invite your team members by entering their email addresses and their first and last names. In their mailbox, new team members can receive an invitation to click. To participate in the group, participants only need to sign up using their work email address.
Similarly, only the admin has the right to make the necessary changes in the Slack channel. Admin has the right to add or remove the members and create the required channels. They can also restrict the message to reduce the noise in the team.
The managing of channels and private groups is another critical situation. It's worth removing this if you don't want your users/employees to build their channels. There are many things you can do in Slack. It's up to you how you want to use your Slack channel.
For more information – Visit Slack's Resources
Final Thoughts
Slack is a free-to-use platform that allows you to manage and communicate with all your team members. If you or your team isn't even using Slack, you can sign up right away to take advantage of communities to communicate, learn, network, and develop your company.
I hope this article has helped you to learn many things about the Slack workshop. If you have any difficulties understanding this article, then let us know in the comment section.