macOS Big Sur was launched in November 2020, this was one of the major updates when it comes to UI and user experience. I've written articles on how to install macOS in windows 10 using VMware before and this article aims to do the same. This is a step-by-step guide on how to install macOS Big Sur on Vmware Using ISO file in Windows 10.
If you are looking to download macOS Big Sur iso VMware Image, there is a google drive link down below. Please let me know if you are facing any issues with the download link.
This is an in-depth article, but I've tried to keep it short, concise, and properly sectioned to help you navigate through this macOS Big Sur ISO download and installation guide for windows PC.
How To Install macOS Big Sur On Vmware In Windows 10
Before getting into the tutorial, it's very necessary for you to understand some of the basic requirements for this installation to work. And since not all systems are built the same, I'll list the absolute basic configurations your system needs to fulfill before downloading macOS Big Sur ISO and installing it on Vmware.
1. Basic Hardware Requirements For macOS Big Sur
If you have a fairly new system, your system should be capable of running macOS Big Sur. For anyone with an older system, some of the required hardware components are as follows.
1.1 Your processor should support virtualization
Virtualization is your processor's capability to virtualize an environment within the current operating system. Depending on the processor installed on your system, the process to check this might be different. I suggest you check this with your hardware manufacturer to find out if your CPU supports virtualization.
A very quick way to check this is by going into the task manager.
Press "Ctrl" + "Alt" + "Delete" on the keyboard together and click on "Task Manager". Alternatively, right-click on the bottom taskbar > "Task Manager".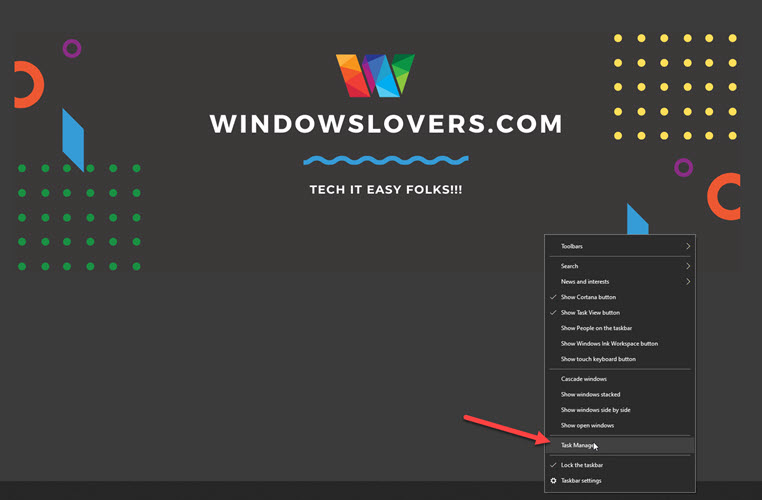 Click on the "Performance" tab and click on "CPU".
If you look towards the bottom right corner of the window, if you see "Virtualization: Enabled: you are all good to go. For some reason, if it says disabled, you will have to find a way to enable this. A quick google search with the processor's name should lead you to that information.
1.2. More than 4 GB ram: The more memory the better. 4 GB will allow you to install the OS but the system will be very laggy. Please bear in mind that the operating system does not run fully optimized regardless but if you do not have enough memory or core processors, sometimes it gets very frustrating.
1.3. More than 2 Cores: New CPU architectures usually have multiple cores, unless you are using a PC that is few years old. In that case, as long as you have at least more than 2 cores, you should be able to at least install and use it. But if you have more than 4 cores, macOS Big Sur runs way smoother on your system.
1.4. Atleast 20 GB Free Harddisk Space
Finally, if your PC fulfills all of these requirements, you are good to go.
Let's look at the tools and applications you are gonna need for this macOS Big Sur installation on VMware on Windows.
2. Download macOS Big Sur ISO for VMware [Google Drive]
1. VMware Player 16 ( Available for free to download and use for non-commercial use)
2. Vmware Unlocker
3. macOS Big Sur ISO File For Windows
Download the mac os Big Sur ISO for Vmware from the google drive lin below.
I am not covering any performance boost/ improvements tips in this guide. But I'll make sure I link to it once that article is up as well.
Learn how to optimize macOS Big Sur Performace in VMware Player 16.
3. VMware Player 16 Download & Installation
Now, let's kick things off by downloading and installing VMware tools on your windows system.
Go to this page Vmware Player 16 download page, scroll towards the bottom, and click on "DOWNLOAD NOW". You will receive a pop-up to save the installer, save it in a folder where you will save the rest of the required tools and apps. This makes it easier to navigate around later on in the tutorial.
The installation process on the VMware workstation player is exactly the same as any other apps. Please follow the GIF as a reference and leave a comment if you face any kinds of difficulties.
4. Unlocking VMware Workstation Player
By default, you cannot install any version macOS operating system in VMware. You need to unlock the VMware application before you can see the option.
This is a very crucial step in this macOS Big SUR VMware installation process, if you don't have the right version on VMware and the correct unlocker for that version, it does not work. So make sure you download the exact version of VMware mentioned in this trutorial.
If the files are unavailable, please let me know in the comments section below.
Extract the "VMware 16 Unlocker" and it will extract the "VMware 16 Unlocker" folder.
Open the folder and look for the file "win-install"
You must run it as an admin for the unlock process to successfully unlock your VMware player 16. Right-click on the file and click on "Run as administrator".
Make sure you do not have VMware running before running this tool.
It opens a command prompt windows and will start downloading some files. This should normally take few minutes. Just let it do its thing and go grab yourself a drink :D.
Once the installation is complete, the CMD will close automatically. That is normal.
5. Installing macOS Big Sur ISO In VMware
And now, the final part. Assuming you have followed all the steps correctly, not skipped anything, and downloaded the right files, you should be good to go.
Fire up the VMware player from the start menu.
The first time you open the VMware player, it will prompt you to either enter a serial key or use VMware for free for non-commercial use.
Select the first option and click on "Continue" & "Finish".
5.1 Creating the macOS Big Sur Virtual Machine
On the right-hand side of the VMware dashboard, click on "Create a New Virtual Machine".
Select "Installer disc image file (iso):" > "Browse…" and select the macOS Big Sur ISO file you downloaded and extracted earlier. If you have not extracted the "[WINDOWSLOVERS.COM]macOS Big Sir ISO" file, please do so now and select the file in this step.
Once you have selected the ISO file, click on "Next>".
Under "Guest operating system" select "Apple Mac OS X" and under "Version" select macOS 11.1. Click "Next >".
Next, give a name to your virtual machine or you can leave it to the default macOS 11.1.
You can also choose to store the virtual machine elsewhere if you prefer. Just click on "Browser" and select a different folder(Not required).
The next step is to select the size of the hard disk you would like to allocate to the macOS Big Sur virtual machine. If your system has enough resources and enough space, you can leave it on "Split virtual disk into multiple files". But in case you have limited hard disk space available, select "Store virtual disk as a single file" and enter the "Maximum disk size (GB):".
For the purpose of this tutorial, I will leave it on "Split virtual disk into multiple files".
Click on "Next >".
This is the final stage of virtual machine creation. You can customize how many resources you would like to allocate to the virtual machine from this window.
Click on "Customize Hardware" and this opens up the customization window.
Couple of things you should check and alter according to the amount of resources available on the system. You don't want to assign everything to the virtual machine. Since doing so your primary operating system will not have many resources to work with and will slow down the overall system. Make sure you have a nice balance and know what you are doing, if not just leave it on defaults and click "Close" > "Finish"
– Memory – Amount of ram you have on your system and out of which, how much you want to dedicate to the virtual machine.
– Processors – Again, make sure you don't assign more than half of the processors available on your system.
Once you are done, click on finish and the virtual machine will be created successfully.
5.2 Installing macOS Big Sur In VMware
Start the macOS Big Sur Virtual machine by clicking on the "Play virtual machine".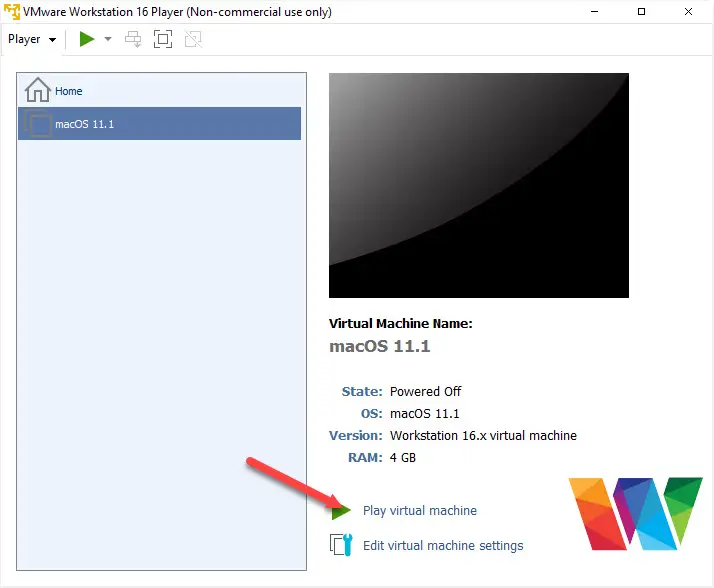 You will now see the Apple logo and the loading bar, this process might take some time depending on the performance of your system. Just let it do its thing, it should not take more than few minutes. If it gives you an error, let me know in the comments below. And if it does not seem to go anywhere, if possible try increasing the number of core processors and the amount of RAM you have allocated to the virtual machine. This should improve the performance and the installation procedure.
Once the installer loads, select the language of your choice and click on the right arrow.
Click on the "Disk Utility" and "Continue".
On the left-hand side, select VMware Virtual SATA Hard…" and click on "Erase".
Give the drive any name you prefer. I will rename it to "macOS Big SUR ISO Download", finally click on "Erase".
It will give you a prompt once the erase process has been completed, click on "Done".
Close the disk utility and now are back on the macOS recovery/installation window.
Click on "Install macOS Big Sur" and "Continue".
Again click "Continue" in the next window and agree to the "Terms and Conditions".
Select the drive we created earlier in the disk utility tool and "Continue".
Let is complete the installation, the VM will restart a couple of times on its own but that is completely normal.
Once the installation is completed, the system restarts for the final time, and you are greeted with the macOS Big Sur welcome window. Let's go through some initial setup and login for the first time.
5.3 macOS Big Sur Initial Setup
Once restarted, choose your country and region and click on continue.
All the setup process is pretty straightforward. You can also skip the migration assistant by clicking on "Not Now".
You can enter your Apple ID in the apple id setup window. If you have one and would like to use it go ahead and enter it in the apple ID window. Otherwise, click on "Set Up Later" and click on continue.
Finally, create an account to login into the system.
Viola! Enjoy using macOS Big Sur on Windows PC. I have covered some of the main issues you might face in the below sections.
FAQ
Can you install macOS Big Sur On Windows 10 PC Natively?
Answer – The straightforward answer to this no. It does not mean that it is entirely impossible to install macOS Big Sur but it is only recommended for power users and for testing purposes. The hardware devices won't be stable and the system will crash more often.
Why I cannot see macOS listed in VMware while installing macOS on pc?
Answer – If you scroll to no.4 which guides you on how to unlock the VMware, that is a very crucial step in this process. When trying to install macOS Big Sur, if you don't see the macOS version listed, that means either you did not unlock it properly or you don't have the right unlocker for the VMware version you are running.
Finally,
That's how to install macOS Big Sur On Vmware In Windows 10. If you face any issues, please let me know in the comments below.