Are you an apple user, and use apple's laptops as your daily driver. If you consume most of your video content from YouTube, like your favourite music artists, funniest videos or memories of all of your friends and want to keep a copy of the video for further references.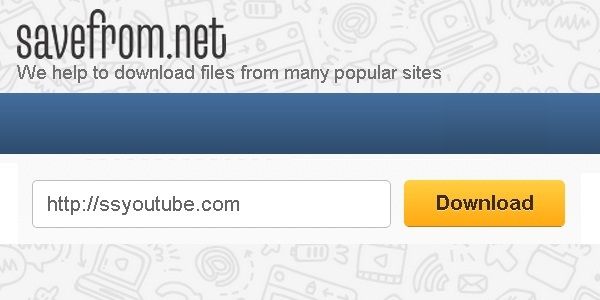 As easy it is to download videos from YouTube from a windows laptop, its not much different from a mac os or a macbook.
This tutorial demonstrates some of the best ways that you can use to download YouTube videos on MAC without using any software or applications for free.
So without further ado, lets get straight into the tutorial.
1. Savefrom.net
Savefrom.net is simply the first service I recommend to any user when it comes to downloading videos from YouTube or from other online sources. It is a free service that allows you to download the videos that you want in different file formats and quality and for free.
The best part about it is that, you don't have to download and install any third party application or even any kind of plugin to use their service. All you need to do is copy the video's URL and start converting/downloading. Which in the case of YouTube, you don't have to do that either.
First open up YouTube.com and search/load the video that you want to download.

After the video loads up, navigate to the video's url on the top of the browser.

Now erase the beginning part of the URL that reads "https://www." and replace it with "ss", without the quotation marks.

After its done, hit enter and wait for few seconds and you should be redirected to savefrom.net's website and your video will straight away start processing.

After the loading is done, you will be provided different version of the video that you can download.

Select the right one that you want and click on download. Now you should see that the video has already started to download.
So, thats it. Isn't that sweet. You do not have to download or install any applications. Neither you need to pay for any service and neither the download speed is affected at any case.
That's all for now, I will be adding new services that I find might be useful in coming days. So, do not forget to check this section regularly or subscribe to our email updates or like our page on Facebook.