You might have heard about the adobe flash player. The same software makes our childhood so memorable and exciting by delivering us lots of games and multimedia content. Adobe flash player, released in 1996 was one of the best ways to live videos and play online games.
Adobe will no longer be supporting the flash player as they have removed the flash player from their system on 31 December 2021. Adobe has also announced restricting the flash program working in the flash player from 12 January 2021 onwards. If you are a current flash player user, then it's better to uninstall it from your system as it won't be working from January. 
What Happened To Adobe Flash Player?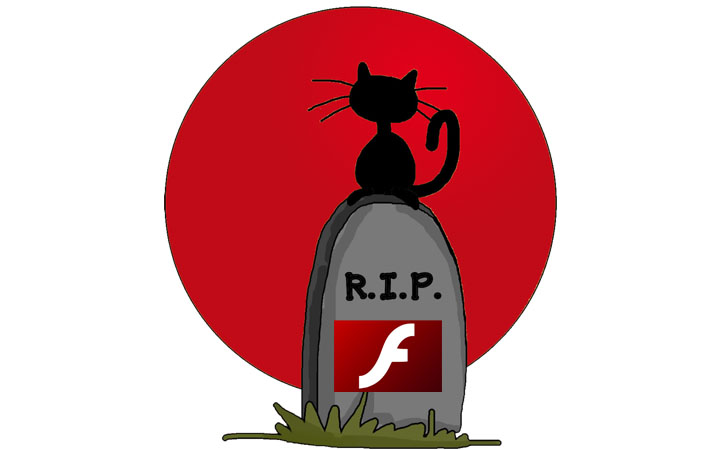 I know there might be one question in everyone's minds: why Adobe decided to remove such a popular software from their system. To understand why the flash player is no more let's see what we have got from adobe flash player and why we won't see the flash player in 2021.
Why was Abode Flash Player so Popular?
Initially, the Flash Player plugin, a specialized piece of software used to load Flash content into a web browser, was a large part of what made the technology so innovative. Flash helps web designers and animators to deliver entertaining material that can be relatively easily downloaded.
Before Flash made those stuff possible, the world has never seen a cartoon such as Homestar Runner or a computer game like QWOP. It was mostly a graphics and multimedia tool, and from its earliest version, it has supported raster graphics and vector graphics. Earlier flash players support various multimedia formats like MP3, PNG, JPEG, FLV, and GIF.
Within a few weeks of release, Flash rose to such popularity that most prominent multimedia websites on the internet needed Flash to be installed. The Flash app from Adobe offered developers the power to express meaning in a whole new innovative way. Implementing Adobe Flash on its websites for firms could mean providing a more immersive user interface through specific page/content navigation or simplified applications such as video embedding.
David John Firth, who is an English animator, explained that "With multiple characters, environments, sounds, and music under 2 megabytes (MB) and viewable from inside the window, you can create a complete three-minute animation." In those days, many of his characters like gangly and green hunchback became viral on social media.
Why Can Flash Player not Match the Speed of Growing Technology?
 In 2007, the first signal of the decline of Flash came when Apple choose not to support it on the recently launched iPhone. The fifth version of HTML was about to appear and promised to replace some of the provided Flash features. Developers worldwide started to shift away from Flash and toward HTML5 with the nascent mobile platform in mind. 
Steve Jobs of Apple wrote a blistering open letter in April 2010, titled Thoughts On Flash, in which he explained why Apple would not let Flash run on iPhones and iPads. Flash's problem was that it was resource-intensive and dangerous, and it was excessively proprietary to its plugin. Jobs advocated for HTML5 and JavaScript, adding they were focused on open standards that could be built on by web browsers.  
Adobe Flash was not suitable for smartphones, so later on, some of the big brands like YouTube, Facebook, Netflix, etc. stopped using adobe flash for mobile devices. That's why Adobe stopped releasing any further updates for smartphones. They continue releasing updates for Flash for computer devices.
Flash's vulnerability flaws and threats to Webhosting firms prompted many market leaders to advocate an end to Flash and a push to HTML5 to set things further off. Through the hacking team's help, lots of vulnerabilities and security bugs were reported, which provides evidence that adobe flash player should take retirement.  
What will happen to the website using Flash?
Almost every website has already moved from Flash to HTLM5, but few websites were still using Flash. So, now what will happen to those websites? There are fears that years of videos, games, and immersive websites will be destroyed, as Adobe will ban Flash Player from viewing content as of 12 January.
Many users will only bounce to another tab if you have a specific mobile app using Flash. You are losing users, and it hurts your site score. For any user of your website that runs it, your Flash media is a security risk. Using an obsolete Flash plugin to play your material to hijack one of your visitor's machines does not require a complicated hack. It will just hurt your visitors.
So, it's time to migrate your old website to modern technology. The latest technologies have been introduced that will help you to replace your flash content easily without any extra cost. It runs quicker, is cleaner, and uses less fuel. A switch to open-source vector-based multimedia content will enhance your website's indexability, privacy, and user experience.
How to Uninstall Adobe Flash Player?
If your computer still has Flash enabled, you would be asked to uninstall it. For months, browsers such as Google Chrome have been alerting users. As Adobe does not plan to release Flash Player fixes or security fixes after the end-of-life date, uninstalling Flash Player can help to protect your device.
You could have the Flash Player utility mounted, which can be disabled for safety reasons, based on how old your current device is. A fast "Flash Player" scan of your device can inform you if the software is running on either a Windows or Mac OS device.
If you find that adobe flash player is installed in your system, you can easily uninstall it by downloading and running an uninstaller for adobe flash players. The necessary steps and the uninstaller file are provided on the Adobe Official Site.