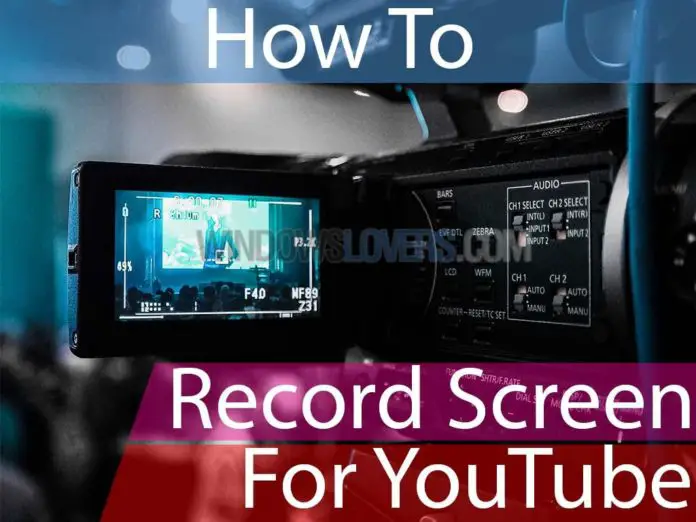 YouTube can be a lot of help sometimes. There are a lot of tutorials on YouTube that are merely screencasts, showing how to solve certain issue. Today in this article I am going to guide you through the process to record screen for YouTube. I've received lots of requests before on how to record computer screen on my YouTube channel as well, so this article is solely dedicated on helping you record screen for YouTube on windows or mac os.
Before we get into the tutorial, I want to get some of the things clear. If you are going to record screen for YouTube, o just want to record your computer screen for presentations, assignments you should keep these things in mind.
If you want to record good quality screencasts, your computer should have decent processing capacity. The main reason is because the CPU requires a lot of power to capture and render the screen. But this complies only if you are going to record it offline.
There are bunch of different ways you can record your computer screen. I personally use an offline software(I'll talk about that later in the post), but you can also do it online. Each method has its own pros and cons which we will get into later.
How To Record Screen For YouTube Windows/MAC OS
Just to save you some scrolling time, I am going to quickly summarize what I am going to write about.
Recording Your Screen Offline(Using An Application)
Record Your Screen Online(From An Online Tool)
Recording A Computer Screen Offline(Using An Application)
I am guessing, since you are going to record screen for YouTube. You must either make video tutorials or gameplays. You might be using for something else too, which is fine. So I am just going to cut the chase and mention the only software that will be able to do the job for you.
Bandicam : Bandicam has been one of the best screen recording applications that I have ever used to make YouTube Tutorial videos. It's user interface is really simple and it takes your gameplay recording to a whole new level. This is the best in the business, trust me.
Some of the best features about bandicam that I absolutely love are:
Simple and easy to use interface.
Recording Screen With GPU support
Good control over the output/input configurations
Webcam Support
And Bunch of other cool features
So how do you use it to record screen for YouTube.
First you need to download a free trial or purchase a full license for bandicam(I highly recommend this).
Note: The free version of bandicam has watermark on the video. If you want to remove the watermark from the screencast videos, you will have to purchase the software.
Let me breakdown all the steps.
Go to the website and download Bandicam.
Install Bandicam as you would install any other windows application. Start the application from the desktop or startscreen.
Now lets look at some of the basic configurations you should look into.
After you launch Bandicam for the very first time, it checks if your system is equipped with a graphics card.
If it gives you a pop up message like you can see in the screenshot below, just hit yes. This is just getting the graphics card to work inside Bandicam.
GPU CHECK
Welcome to Bandicam's User interface.
I would like to go through some of the most important settings that you seriously look into to record screen for YouTube.
General
General tab is for most of your general configurations for the video.
Select the "Output Folder" for the video of the screencast to be stored.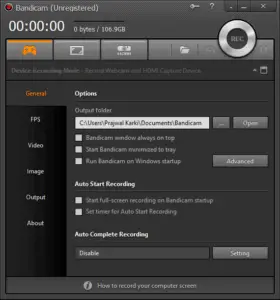 Video
Another important tab is Video tab. Here you will configure all of your video output settings like file format, quality and other useful settings. I recommend following configurations.
Under record, set the "Hot key"/ Shortcut key to pause or stop the video. This makes recording a lot easier. To change this, just click on the blanks "f12 or "shift+F12".
Click on settings, you should see a window as shown.
If you are also recording audio for the video, tick the "Record Sound" option and select the Primary and Secondary Sound device. But I strongly recommend that you use "Audacity" to do all all the recordings for YouTube to get better quality.
You should see other options such as Webcam,Logo,Effects and Options.
Under options tab, set Recording priority to at least [High].
Time for file format settings.
Under Format tab you should see another settings button. Click on that and you should see another configurations window.
Select File Type to MP4.
Under code, select your graphics card if you have one.
FPS, the more the better. Be default it is se to 30, which also good to record screen for YouTube.
Quality higher the better, but depends the capability of your system.
Finally, its time to start recording your screen.
After you have finished configuring all the settings, to start recording you need to press the big red "RED" button. You can also use the "Hot Key" that you setup earlier.
Bandicam Rec Settings
But before that, you need to be on the proper profile to record screen for YouTube. There are three choices out of which you will be mostly using only one. That will be the "Screen Recording More".
Click on the "Screen Recording Mode" and it should open a window.
On the top left corner, press the down arrow button that should pull down a new window.
From the window, select the screen size, opacity.
FINALLY, PRESS THE REC BUTTON TO RECORD SCREEN FOR YOUTUBE TOTURIALS.
Recording Your Screen Online
Online free screen recording tool that I use sometimes is  screencast-o-matic.
Just head over to their website and click on start recording.
This will download a small tool and in a minute, should open the interface for recording your screen.
To record screen for YouTube on windows and mac os has never been this easy.
Was this article useful?? Show us some love by sharing this on social media websites.