Were you not able to browse your favorite website and all you get is an error message that reads as DNS_PROBE_FINISHED_NXDOMAIN , Dns Probe Finished No Internet or DNS lookup failed?
How To Fix Dns_Probe_finished_Nxdomain In A Nutshell:
Flushing The DNS And DNS Client Restart
Using A New DNS
Chrome Flags Reset
Hosts File Reset
Hard Refresh
It's really frustrating and in some cases you might be able to access and browse some specific web addresses and not other sites. There might be lots of possible reasons for receiving such kind of error.
So, before getting into solving the issue, let's discuss about some of the major reasons behind theses kinds of errors.
DNS is a tool that looks up the IP address for the web address that you type in your browser, be it Mozilla, internet explorer, google chrome or any other browsers of your choice. It means that it creates a connection between the web address's server and your PC.

DNS_PROBE_FINISHED_NXDOMAIN simply means that your PC could not establish a connection between the web services servers and the PC because of a DNS failure on your side or your ISP's side.
DNS_PROBE_FINISHED_NXDOMAIN : Best Solutions
It's not always a result because of any fault on the client's PC, but sometimes also because of the ISP's servers.
Even I, get these kinds of error messages sometimes and most of the times I am able to use YouTube and some other services. But while browsing Facebook, Twitter, email, and other services I get an error message DNS lookup failed.
Follow all the procedures as explained below, and your internet should be working fine in no time.
Method 1: DNS FLUSH
Everytime I receive these errors, I generally flush my DNS address. This restarts the connection with the DNS server and in most of the cases, saves a lot of time. You will not require to restart your system after its done.
Step1: Open CMD as an administrator. If you are on windows, press Windows Button + R  and if you are on MAC OS just open the terminal app from /Applications/Utilities/.
Step 2: Inside command prompt, enter the following command.
netsh winsock reset
And on Mac, after getting into the terminal, type the following command and enter the password as required.
sudo discoveryutil mdnsflushcache;sudo discoveryutil udnsflushcaches;say flushed
After you've done everything, I would recommend to restart your internet connection and try to see if this has fixed the dns_probe_finished_nxdomain problem.
If not, continue reading the article and look into other ways to fix it.
Method 2 : DNS Client Restart
This is only for windows users, but we are basically doing the same thing we did in the above procedure. We will be restarting the DNS provider services from the services.
1: Again open Run by pressing Windows Key + R  or search for run in the start menu.
2: Type "Services.msc" and hit enter.
3: A window should pop up. And now scroll down carefully and look for "DNS Client".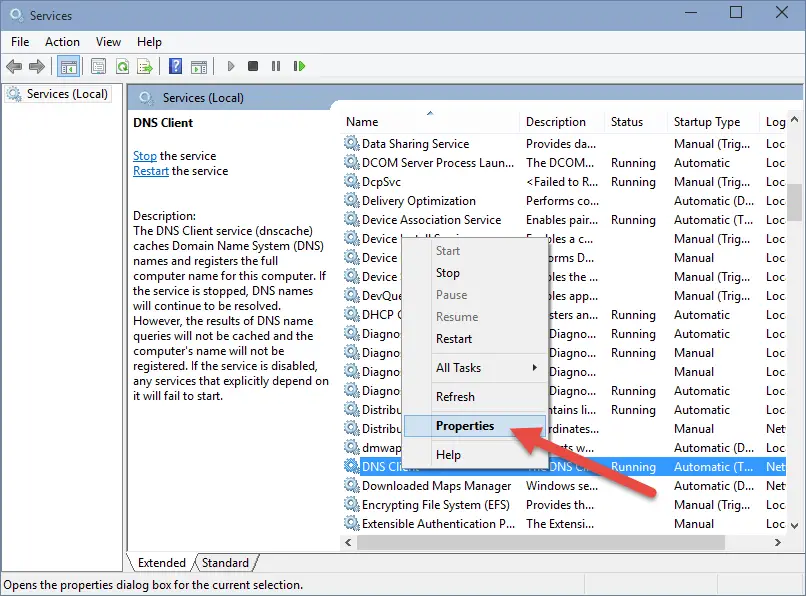 Step 4: Right Click on "DNS Client" and click "Restart".
Step 5: Give it a few seconds and it should be running again.
I would suggest you to restart your internet connection and then retry loading the web page you were trying, to see if the dns_probe_finished_nxdomain problem is solved.
Method 3: Using A New DNS
Since, the whole problem revolves around the DNS server or its address, one of the best solutions as recommended by most of the users is by updating the DNS server's address that is being used by default on your system.
This Complies On Both, Windows And Mac OS running Computer.
For Windows Users
Step 1: Go to Control panel and look for "Network And Sharing Center" among different services available there.
Or, another easier way to do that, is to right click on the connection icon on the bottom right side of your screen and click "Open Network And Sharing Center".
Step 2: Now that you are inside "Network And Sharing Center", you should see an option "Change Adapter Setting" on the top left side of the window, click on that.
Step 3: You should be provided with different kinds of adapter that are available on your computer. Right click on the one that you use to connect to the internet everytime and click on "Properties".
Step 4: A small box will appear. Scroll a bit and look for Internet Protocol 4 (TCP/IPv4), select that and click properties.
Step 5: On the new window, you will see options to update the IP addresses and the subnet masks. Just below that you should see an option that says, "Use the following IP address" and that  is usually not selected.
Select that option and a new input area will be unlocked. Enter the following DNS server addresses as mentioned.
Preferred DNS Server: 8.8.8.8
Alternate DNS Server: 8.8.4.4
Now, click OK. Assuming that you did everything as mentioned, get into your browser and check if it works, or restart your connection and check if it solved dns_probe_finished_nxdomain error. 
For Mac OS Users
Step 1: From the desktop, go to system preferences from the apple menu and then select "Network".
Step 2: Check to see if the lock in the lower left hand corner is locked or unlocked. If it is unlocked, you will not require to make any changes, but if it is locked, double click on that and you should be prompted to authenticate the action by entering your password.
Step 3: Depending on the type of connection you use to connect to the internet, select the type of connection.
For e.g. : For Ethernet Connection, select Built-in Ethernet and click on Advanced
For a wireless connection, select Airport and click on Advanced.
Step 4: Select The DNS Tab.
Step 5: Click the + sign to replace the current address or add a new address.
Under IPV4: Enter 8.8.8.8   AND  8.8.4.4
Click Apply and OK.
Step 6: Restart your connection, and check to see if it works.
Method 4: Default Google Chrome Flags
Google chrome supports different internal settings and features for getting the most out of the user's browsing experience. They are called flags in Google chrome and can be accessed by typing chrome://flags/ in the browser's URL.

Open up google chrome and close everything that you might be working on.
Copy and past or type chrome://flags/ in the URL section and hit enter.
Do not change anything / option as this might break the browser's functionality.
All you got to do is, reset everything to default. You should see a button that does the job on top right of the window.
Restart the browser after it's done.
Method 5. Advanced CMD Commands
Now lets discuss some of the advanced CMD commands that you can try and see if that fixes any network related issue with your system. Enter the following code in the order mentioned
> ipconfig /flushdns
> ipconfig /registerdns
> ipconfig /release
> ipconfig /renew
> netsh winsock reset catalog
> netsh int ipv4 reset reset.log
> netsh int ipv6 reset reset.log
pause
shutdown /r
Alternatively you can create a simple batch file with the above mentioned commands and then run the batch file instead of going through all the commands one by one.
Open Run and type in "Notepad".
Copy and paste the command inside the new notepad window.
Save the file as Something.bat. Donot forget to select "All files" under file types.
Now runt the something.bat as an administrator. Just right click on the something.bat and click on "Run as administrator".
Final note, do not forget to restart your system after you do this. Fingers crossed.
Dns Probe Finished No Internet: Other Solutions
What If Nothing Works:
Update: 21/09/2015 
Well, there is another thing that you can try to fix this problem, try to reset the hosts file on your windows. If you have no idea about how the hosts file work or even how to update or rest the record of the file, check out the information on Microsoft's website. You might as well download a free tool from there, that will automatically reset the hosts file from your computer. 
Update: 10/10/2015
I have been receiving lots of feedback from the readers that most of the times the actual problem is with the browsers's cache and clearing or resetting the cache actually fixed the dns_probe_finished_nxdomain problem for them.
Following are the exact steps to do this.
Open up a new tab on Google Chrome.
Type about:flags and hit enter.
You will now be taken to google chrome's advanced menu page.
Search for Simple Cache For HTTP.
Usually it is set to "Default".
Put it to "Disabled" and then clear your browser's cache by getting into the settings and restart your browser to see if the DNS_PROBE_FINISHED_NXDOMAIN problem still persists.
Hard Refresh !!!
Simply hold down the Ctrl button and press the F5 button.
This will simply refresh the webpage while clearing any information that was stored in the cache and replacing with new information.
You Can Also Try:
Since you have tried and tested everything, there are still some basic things you can try to solve Dns Probe Finished No Internet. If you have not tired them already.
Use an alternative browser.
Try opening the same website from a different device. This helps to know whether the problem is because of the device or your internet connection.
Ok, so despite of trying all these solutions, if you still are not able to browser the website you are trying to, here are some of the things you can finally do.
The most common issue with these kinds of problems is the ISP's side. Sometimes your ISP is not being able to fetch the website that you want to visit. So in this case, you might not be able to visit or browse certain websites. So in these cases, i would suggest you to try and see if other websites load up and wait for it to get fixed.

Sometimes browser issues can result in DNS_Probe_Finished_nxdomain issues, so better try and uninstall and install the browser you have. But before that I would suggest you to check and see if the websites loads up on other browser that you might have.
I've used google's open DNS in the tutorial, you can always try to use some free OPEN DNS to see which one works better for you.  Here are some of the best Open DNS.
And most of the cases, I've seen this working for the Google Chrome users.
Not necessarily ,because of any fault in Google Chrome, but also might be because of the wide use of Google Chrome over other browsers.
I hope this in depth tutorial helped you solve your dns_probe_finished_nxdomain or dns probe finished nxdomain issues.
Let me know in the comments below, if it did or if it did not.